Snoozzzeberry CBN 5:1 Bar
$40.00
Description
Snoozzzeberry CBN 5:1 Bar
*Cannabis and Sales tax will be add at checkout.
Hit the snoozzze bar. Sweeten your slumber with a dose of dreamland. Crunchy rice crispies, dark chocolatey blueberries, snores galore. Snoozzzeberry chocolate offers 100mg THC and 20mg CBN total, with 5mg THC and 1mg CBN per piece. Made with pure THC distillate in a homogeneous mixture to ensure accurate dosing and consistency.
120mg Chocolate with 20/6mg pieces, 5mg THC, 1mg CBN/piece
Cannabinoids are naturally occurring chemical compounds that are found in cannabis and provide consumers with a wide range of effects. THC and CBD are examples of some of the most commonly known cannabinoids.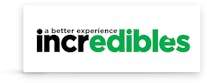 Found in 2010, incredibles is recognize as the number one infused edible in Colorado. Known as experts in both infused edibles and extracts, incredibles has become synonymous with quality and consistency throughout the country and around the globe. With experienced leadership having over 20 years of combined food and product manufacturing experience, it's no surprise that incredibles' mission is to consistently provide high-quality, handcrafted infused products that taste great. incredibles products, which include a wide variety of chocolate bars, gummies, and concentrates for both medical and adult-use are carried by more than 760 Colorado dispensaries. Every edible consists of precisely measured e-portions ensuring dose accuracy and effectiveness.
Details:
Edibles are create either by infusing cooking oil or butter with cannabis extract, or by mixing extract directly into other ingredients. Because edibles are digest and absorb by your stomach and liver, the activation is often longer than other consumption methods, taking on average 45 minutes, and sometimes up to 2 hours. It is important to start low and slow when consuming edibles so you don't over do it. 1906 is name for the last time cannabis was nationally accept as a beneficial, versatile medicine.
Bliss is formulate from one of the greatest happy drugs of all time: Kanna, also known as Sceletium tortuosum. Kanna works well on its own, and doubles down on euphoria when paired with cannabis.